Triphalash (Organic) – Keeps You Regular – 60 Vcaps
$22.73
GBP

:

£17.50

EUR

:

€19.69

AUD

:

$31.79
Earn 227 points upon purchasing this product.
Email to a friend
Description
Triphalaor triphala churna is a brown coloured powder and has components from three plants – amla, harad and baheda. When combined, these three herbs are of immense help to the entire body.
Known to improve eyesight, fight off infections, help in the release of toxins and improve digestion, triphala churna is known in ayurveda as a panacea for several ills. So, if you have been suffering from constipation, are feeling bloated or have not been too hungry lately, here is a great natural remedy for you – triphala churna.
Additionally, our Triphala include Ashwagandha and Bacopa(Brahmi) which is why we call it Triphalash. These two Indian roots are well known adaptogens which add extra dimensions to the formula. Ashwagandha and Brahmi, are known to activate the antiaging Nrf2 pathway which is the ability to encourage endogenous antioxidant mechanisms from within the cells helping the body maintain homeostasis and advanced glycation end products (AGE's).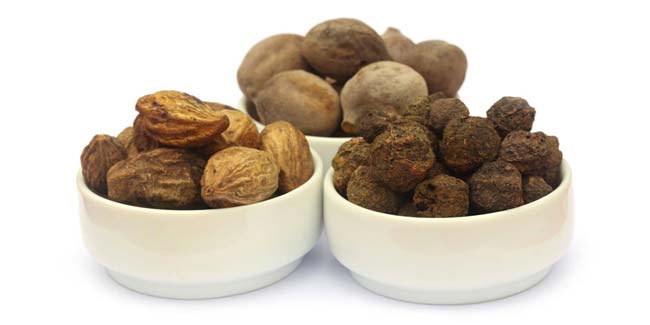 How it helps you:
Harad or black myroblan also known as Hartaki, is an important constituent of triphala churna.  Harad acts as a potent laxative, an astringent and lubricant within the stomach, which helps loosen hard stools, reducing the chances of you suffering from anal fissures, fistulas and hernias. In Ayurveda, Harad is used to treat acute constipation, diarrhoea, liver problems and other infections. This is because harad has potent anti-bacterial, anti-fungal and anti-parasitic properties.
Amla or amlaki has a number of health benefits for the body, but some of its most noteable properties are that it is a mild laxative. It cools the inner lining of the stomach and reduces inflammation. Amla is regularly used to treat ulcers, constipation, diarrhoea, infections and to reduce the burning feeling one has when their stomach is irritated.
Amalaki
The first ingredient is highly regarded as a tonic for longevity because it has rejuvenating qualities. It's well known to help many heated symptoms like inflammation, fever, liver weakness, gastritis, premature gray or balding…just to name a few.
Research also shows Amalaki to contain high concentrations of bioflavonoids, tannins, amino acids, minerals and antioxidant vitamins. Amalaki is one of the best sources of antioxidant vitamins and is said to have 20 times as much vitamin C as orange juice (3000 mg per fruit).
It's really beneficial for women because it nourishes and strengthens the blood, bones, liver, and heart and is also known to increase red blood cell count.
Bibhitaki
The name Bibhitaki means "the one that keeps you away from disease". Bibhitaki is an exceptional herb for Kapha type conditions of the lungs such as bronchitis, cough and mucus type symptoms. It has the ability to break up accumulating mucus. It may also strengthen voice quality and promote hair growth.
Haritaki
And last but not least, Haritaki means "Life Giver" in Sanskrit and is highly revered in India. It is one of the best rejuvenating herbs for Vata type conditions such as nervous system disorders, gas, muscular rheumatism, itching and is used in treatment for both chronic constipation and diarrhea.
Haritaki feeds the brain and can help to increase energy, wisdom, and intelligence.
Ingredients:
Composed of the fruits of Organic Amalaki (Emblica officinalis), Organic Bibhitaki (Terminalia bellirica), Organic Haritaki (Terminalia chebula), Organic Ashwagandha (Withania Somnifera) and Organic Brahmi (Bacopa Monnieri).
Other Ingredients: HPMC Veggie capsule, no fillers whatsoever.
Suggested Usage:
As a food supplement take 1- 2 vegetable capsule two times per day.
Quality Assurance Declaration
Werone.co endeavors to use the most potent source materials within our formulas. Our herbal extracts are sourced and tested by the only Government-certified large scale producer of crude herb (powder-free) TCM concentrates in Asia who manufacture to GMP / ISO 9001/2000 pharmaceutical grade and also operate an ISO17025/TAF-certified laboratory where they subject all plant extracts to strict quality inspections free from heavy metals, pesticides or microbes before release to the clinics all over the world. The formulas and tinctures are assembled without fillers in small batches by a BHMA member herbal dispensary.
Nutraceutical Disclaimer
These statements have not been evaluated by the Food and Drug Administration or MHRA and the items are not intended to diagnose, treat, cure, or prevent any disease nor are they associated, endorsed, affiliated or sponsored by Anthony William or Medical Medium® or Joe Tippens.
Returns and Exchanges
 You can return unwanted items by post within 7 working days of receipt of your goods.
You have 14 calendar days to return an item from the date you received it. 
Only items that have been purchased directly from Us.
Please ensure that the item you are returning is unopened and in re-saleable condition.
Email us for a return address and procedure.
Delivery - British Isles Shipping (BI):
Donation/Gifting placed before 12pm will usually be shipped the sameday, if there is any stock issue we will contact you to discuss. The main shipping choices available during the final stage of our gifting cart are:
British Isles Delivery - FREE if over £35 order value - [£0.00] 2nd Class Royal Mail - NOT-TRACKED
2 to 3 Day - Monday to Friday, 'may' deliver to residential addresses on a Saturday.
British Isles Delivery - Royal Mail up to 2Kg - [£3.50 to £6.00]
Next Day - Monday to Friday, 'may' deliver to residential addresses on a Saturday.
Europe / Scandinavia- Surface Mail up to 2Kg - [£4.56 to £15.00] or FREE if order value over £77.00 (€85) - NOT-TRACKED
Takes from 5 to 10 Days - Monday to Friday, 'may' deliver to residential addresses on a Saturday.
Europe / Scandinavia- Surface Mail up to 3Kg - TRACKED! - [£7.85 - £16.50]
5 to 7 days - Monday to Friday, 'may' deliver to residential addresses on a Saturday.
UPS EXPRESS (1 - 2 days) Some of Europe - Courier up to 2Kg to 3kg - [£34.00 to £38.00]
1 to 2 days - Monday to Friday, Only available to: Belgium, France, Germany, Greece, Ireland, Italy, Netherlands, Portugal, Spain, Sweden.
Outside Europe / International - [7-10 days] - Mail and/or Courier(Except USA),
from £9.00 or 3 day courier service from £21. USA shipments will only be sent by post due to customs issues with courier services.


* Please ensure that someone is available to sign for the parcel at the delivery address. You may provide a work address if you wish during the checkout process. In UK Royal Mail will only make ONE delivery attempt, if nobody is available at the address, they will leave a card and expect you to contact them, they cannot leave with a neighbour unless you pre-arrange this with us. A re-delivery will cost £3.00 and a change of address will be £6.50, you may also collect from their collection office. If the shipment is not collected after 4 days they will return it back to us, re-deliveries will be chargeable.

Please Note: These costs are for most items. We reserve the right to adjust costs to reflect the additional cost of shipping items of greater than average weight . Shipping & Handling is based on weight of the Order using the following schedule (all donations are in GBP and not subject to VAT)


Delivery Zones Worldwide


Note, if you choose the wrong delivery zone, we will re-calculate the delivery charge and advise you by email if there is any donation shortfall to ask you to pay the balance on paypal..
British Isles / Free if not urgent! Surface Mail / Courier from £10
England, Scotland, Norther Ireland, Wales, Channel Islands, I.O.M
Europe / Scandinavia - Surface Mail
Irish Republic, Belgium, France, Germany, Greece, Hungary, Italy, Netherlands, Portugal, Romania, Spain , Med. Islands , Austria, Bulgaria, Cyprus, Czech Republic, Denmark, Estonia, Finland, Hungary, Israel, Luxembourg, Lithuania, Latvia, Malta, Norway, Poland, Russia, Romania, Slovakia, Slovenia, Serbia, Sweden,
Outside Europe / Asia / USA / Southern Hemisphere - Surface Mail or Courier
Africa , Albania, Algeria, Australia, Botswana, Bahamas, Canada, Canary Islands, Croatia, Egypt, Jamaica, Jordan, Kenya, Malaysia, Mauritius, Monaco, Moldova, Morocco, Norway, South Africa, Sudan, Switzerland, Syria, Turkey, Ukraine, Zambia, Argentina, Barbados, Brazil, Chile, Colombia, Costa Rica, Equador, Israel, Jamaica, Kuwait, Libya, Lebanon, Mexico, Oman, Peru, Puerta Rica, Saudi Arabia, Singapore, Taiwan, Thailand, UAE, USA(surface post only) Uraguay, Yemen, Australia, Bali, China, Hong Kong, Indonesia, Japan, South Korea, Malaysia, New Zealand.
Delivery Region (Regular Mail and Couriers)
Delivery Costs (Approx.)
British Isles - FREE if over £35 order value
(5 to 7 days)
>5kg FREE but Not Insured!

British Isles / Royal Mail
(2 - 3 days)


>0.5kg
£3.50

1kg
£4.00

2kg
£6.00

5kg
£15.00

Europe + Scandinavia + Surface Mail (approx 7 -10 days) - NOT-TRACKED

>0.25kg
£4.35
750g £6.50
>1kg
£8.50
2kg
£12.50
Europe UPS EXPRESS (approx 1 - 2 days)


>2kg
£34.00

3kg
£38.00

Europe + Scandinavia + Surface Mail (approx 7 -10 days) - TRACKED

>0.25kg
£7.85

0.5-1kg
£15.00

1-2kg
£16.90

2-3kg
Use Cour.

Outside EU (approx 7 - 10 days)
(7-10 days mail



>250g
£5.00

>500g
£9.00

>750g
£12.00

1kg £21.00 Use Cour.

Outside EU Courier (Except USA)
(3 days UPS, option is insured)
>250g
£24.00
>500g
£24.00
>750g
£26.00
1kg
£26.00
Warranty and Returns Policy
We can provide a refund if you are unhappy with your gift but you will need to pay the return costs and the individual items must not have been opened and must be returned in original condition and with all packaging intact. Any refunds which are authorised should be returned to the address on the paperwork with a copy of it along with your reason for return. Items MUST be returned UNOPENED and in the condition they were sold in.


USA and International Gifts:
Must be received before 11.00am to be despatched on the same day (note: £1 is approx $1.30 USD & €1.14 EUR, use this Currency Convertor to find the latest exchange rates, or select the currency flag in the top right corner of the webpage)

Special Delivery are a fast and reliable service. The delivery to the British Isles is a 1-2 day service (subject to stock) when choosing these methods. We cannot 'guarantee' a nextday delivery, though often it will arrive nextday (except during Holiday Periods). Please make your choice on the checkout page of our gifting cart. Parcels weighing over 1kg in weight will automatically be sent using Courier nextday from day of despatch unless otherwise specified. Most orders placed before 12 Noon are usually be despatched sameday but we cannot guarantee this, [email us] to find out what stage of your gift is at. Donation/Gifts placed late Friday afternoon or on a weekend, will not be sent until the following Monday or Tuesday. Should you wish to have a Saturday Delivery, there is an additional cost of £18.