Description
Triphalaor triphala churna is a brown coloured powder and has components from three plants – amla, harad and baheda. When combined, these three herbs are of immense help to the entire body.
Known to improve eyesight, fight off infections, help in the release of toxins and improve digestion, triphala churna is known in ayurveda as a panacea for several ills. So, if you have been suffering from constipation, are feeling bloated or have not been too hungry lately, here is a great natural remedy for you – triphala churna.
Additionally, our Triphala include Ashwagandha and Bacopa(Brahmi) which is why we call it Triphalash. These two Indian roots are well known adaptogens which add extra dimensions to the formula. Ashwagandha and Brahmi, are known to activate the antiaging Nrf2 pathway which is the ability to encourage endogenous antioxidant mechanisms from within the cells helping the body maintain homeostasis and advanced glycation end products (AGE's).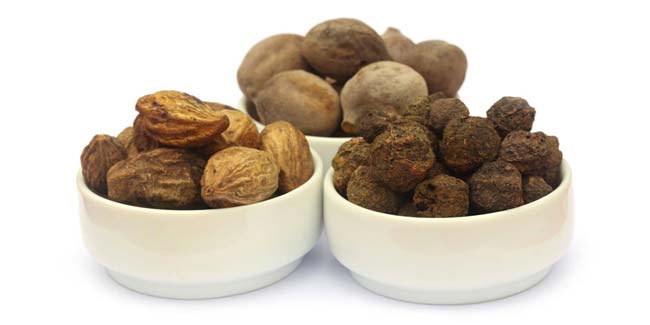 How it helps you:
Harad or black myroblan also known as Hartaki, is an important constituent of triphala churna.  Harad acts as a potent laxative, an astringent and lubricant within the stomach, which helps loosen hard stools, reducing the chances of you suffering from anal fissures, fistulas and hernias. In Ayurveda, Harad is used to treat acute constipation, diarrhoea, liver problems and other infections. This is because harad has potent anti-bacterial, anti-fungal and anti-parasitic properties.
Amla or amlaki has a number of health benefits for the body, but some of its most noteable properties are that it is a mild laxative. It cools the inner lining of the stomach and reduces inflammation. Amla is regularly used to treat ulcers, constipation, diarrhoea, infections and to reduce the burning feeling one has when their stomach is irritated.
Amalaki
The first ingredient is highly regarded as a tonic for longevity because it has rejuvenating qualities. It's well known to help many heated symptoms like inflammation, fever, liver weakness, gastritis, premature gray or balding…just to name a few.
Research also shows Amalaki to contain high concentrations of bioflavonoids, tannins, amino acids, minerals and antioxidant vitamins. Amalaki is one of the best sources of antioxidant vitamins and is said to have 20 times as much vitamin C as orange juice (3000 mg per fruit).
It's really beneficial for women because it nourishes and strengthens the blood, bones, liver, and heart and is also known to increase red blood cell count.
Bibhitaki
The name Bibhitaki means "the one that keeps you away from disease". Bibhitaki is an exceptional herb for Kapha type conditions of the lungs such as bronchitis, cough and mucus type symptoms. It has the ability to break up accumulating mucus. It may also strengthen voice quality and promote hair growth.
Haritaki
And last but not least, Haritaki means "Life Giver" in Sanskrit and is highly revered in India. It is one of the best rejuvenating herbs for Vata type conditions such as nervous system disorders, gas, muscular rheumatism, itching and is used in treatment for both chronic constipation and diarrhea.
Haritaki feeds the brain and can help to increase energy, wisdom, and intelligence.
Ingredients:
Composed of the fruits of Organic Amalaki (Emblica officinalis), Organic Bibhitaki (Terminalia bellirica), Organic Haritaki (Terminalia chebula), Organic Ashwagandha (Withania Somnifera) and Organic Brahmi (Bacopa Monnieri).
Other Ingredients: HPMC Veggie capsule, no fillers whatsoever.
Suggested Usage:
As a food supplement take 1- 2 vegetable capsule two times per day.
Quality Assurance Declaration
Werone.co endeavors to use the most potent source materials within our formulas. Our herbal extracts are sourced and tested by the only Government-certified large scale producer of crude herb (powder-free) TCM concentrates in Asia who manufacture to GMP / ISO 9001/2000 pharmaceutical grade and also operate an ISO17025/TAF-certified laboratory where they subject all plant extracts to strict quality inspections free from heavy metals, pesticides or microbes before release to the clinics all over the world. The formulas and tinctures are assembled without fillers in small batches by a BHMA member herbal dispensary.
Nutraceutical Disclaimer
These statements have not been evaluated by the Food and Drug Administration or MHRA and the items are not intended to diagnose, treat, cure, or prevent any disease nor are they associated, endorsed, affiliated or sponsored by Anthony William, Medical Medium® Joe Tippens, Jane McLelland or Jim Gordon.